Joy, love and celebration of life: these are the values that form the basis of the Italian designer furniture brand Erba Italia. Three of their exciting products are now available in the Estorio showroom – we talked to Anita Koritke, Estorio's showroom manager, about the brand.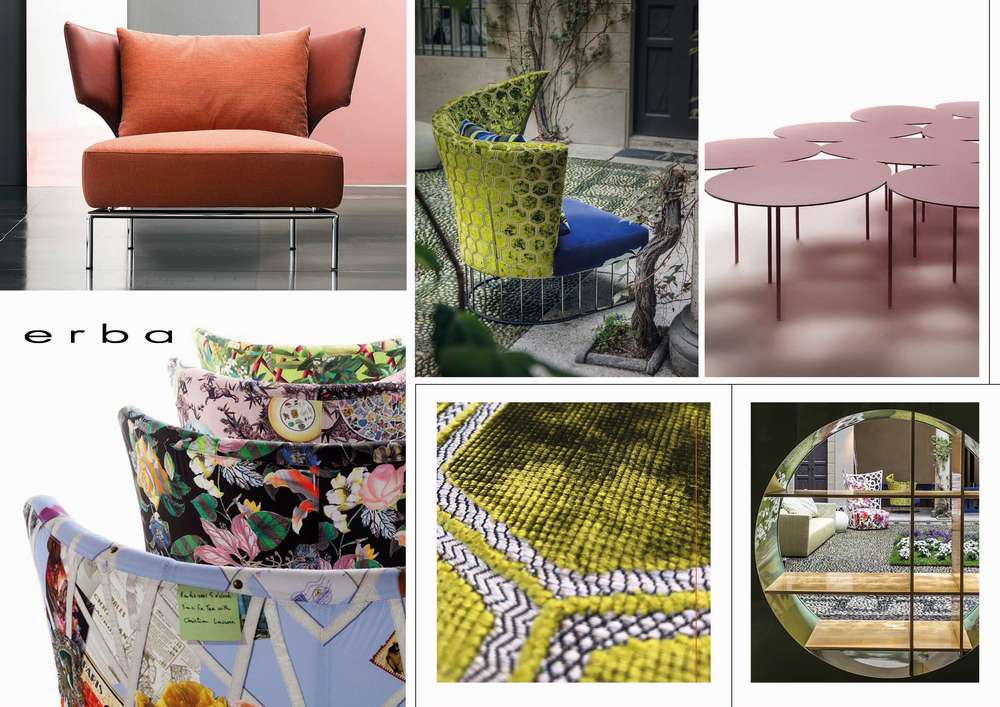 What is the first word that comes to mind when you think of Erba Italia?
There are three: out of the box, bold, cool. It's a brand that doesn't want to please everyone: it's brave enough to be different from the mainstream, accepting that not everyone will like it.
So Erba Italia is never boring and is always astonishing in any space. How do their products have this effect?
Innovation always requires questioning the certain. What does an armchair look like? What makes a bed a bed? What features can be changed to create new forms without compromising function? This, and an incredible love of life, is the inspiration behind Erba Italia's design. Giorgio Soressi, the designer of Erba Italia, is an extremely versatile artist: a painter, musician and poet. He believes that life is to be enjoyed. All the furniture he designs conveys a sense of joy, love and celebration of life. His products break out of the usual patterns and dance in the space. Their distinctiveness comes from the use of color, bold patterned designer fabrics and brave combinations of bright colors and patterns.
Behind the spectacular and often cheerful design lies a great deal of know-how. Can you tell us about that?
The company has been producing furniture for the biggest Italian brands for many years, and has gained a lot of experience in this field, while having to meet very high quality standards. So they already had the expertise in-house when they decided to take advantage of this and launch their own brand, Erba Italia. The brand is 15 years old, which is relatively young, but the company's experience in furniture manufacturing goes back centuries.
In the studio of este'r partners, besides "astonishing design", Erba Italia is described as the brand with the highest precision. What does that mean?
Erba's team set up an 800 square meter showroom near Lake Como, where we had the opportunity to explore their products and take a closer look at the details. There was a 4 meter wide sofa, on top of which was an equally long continuous straight seam. Anyone who has ever tried upholstery will probably know that it is very difficult to sew a straight seam. On this sofa, you could have used a ruler to match the seam, the seam and the stitching was perfectly straight. Multi-layered foam is used and its hardness varies according to the function, in order to ensure that it holds its shape over time, has the right support and the level of hardness meets the customer's needs.
Erba Italia's furniture sizes are different from the usual – why is this important? Where do these pieces look good?
Indeed, Erba Italia furniture demands space for itself. They really look their best when they are used in a large space. There is currently an Erba Italia collection on display in the large reception hall of the Museum of Fine Arts in Budapest, where Erba Virgola and Icona armchairs stretch towards the coffer ceiling. We also recommend the furniture for hotel lobbies, but they look just as good in a high-ceiling apartment.
In the Estorio design apartment, we can find several products from Erba Italia. How did you choose them?
We chose three pieces from them for Estorio: the Virgola armchair, the Io e te bed and the Nomade armchair. Every space needs a little twist, a little fun, a little spice to make it unique and alive. That's what these pieces are perfect for: they are very expressive, out of the ordinary, and add an extra dimension to the space. The strong character of the furniture is balanced with classic, delicate fabrics, so they are also perfectly suitable for an elegant design home inspired by the style of Opera House.
Besides the furniture mentioned above, do you have any personal favorites from Erba that you'd love to have in your own home?
In addition to classic furniture, Erba also sells rugs, decorative objects, lamps and has some beautiful storage units with unique shapes, such as the Hole shelf, which works very well as a modern room divider, or the Nessun Dorma table, which also demonstrates their impressive creativity seeking to break free from the standard design while still keeping the original function. I would enjoy any of these at home.