Sustainability, high-tech solutions and stunning design – Gábor Papp, Estorio commercial manager is leading us through the fascinating world of Valcucine kitchens.
Valcucine kitchens are amazing – a world of sophisticated, clever and aesthetic solutions. Can you recall the first time you saw their products?
In the early 2000s, I stood in front of a shop window and I was fascinated. I felt like I had to go into the studio to see that beautiful Valcucine kitchen furniture; there, I came across a timeless, eternal beauty that I will never forget.
What values does the Valcucine brand represent for you now? Why do you like to recommend it to your clients?
In addition to beauty and harmony, Valcucine has perfected an ergonomically well designed kitchen system that has been thought through down to the last detail. Every part is personalized and carefully planned.
All solutions and materials are tested and checked to the highest standards. If the strictest test is Japanese, then they must pass that, there is no compromise on quality.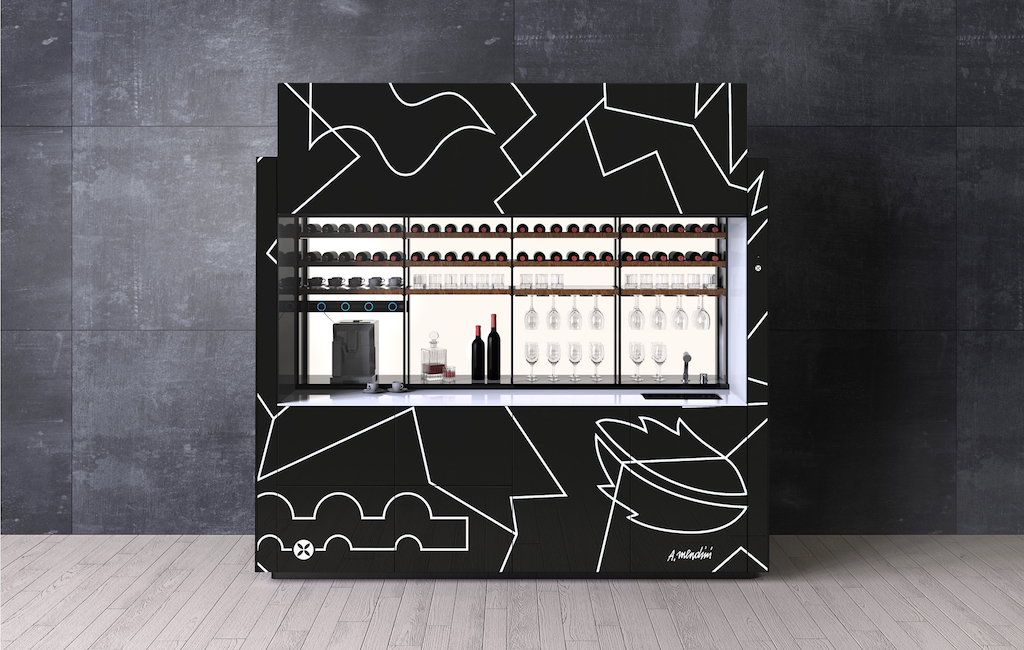 The brand is forward-looking, timeless and reliable not only in design but also in technology. Can you tell us how you see this?
The kitchen technology system is significant in every home. Besides being beautiful, all elements are expected to be durable, safe and easy to use, and in a high-quality interior it is important that the system remains aesthetically pleasing in the long term. This can only be ensured through careful development and strict quality control. The silent, automatic door opening and closing of the Logica Celata system with its 360 cm wide, one-piece glass door front is a true engineering masterpiece. The result is ultimate user freedom and multi-functionality in a timeless form.
Sustainability and environmental awareness are absolute priorities for Valcucine. Why is this important and how does it meet Estorio's values?
The production of each product requires several resources. Valcucine's environmental awareness is visible in the way that it treats its materials with the utmost respect. Their widespread use of the most easily recyclable glass and aluminium reduces the environmental impact. The design philosophy of Estorio is to create long-lasting interiors that go beyond the fashion trends of the moment. We believe that carefully selected high-quality products, integrated into a harmonious interior design concept, increase the value of a property by keeping it up to date in the long term. Our clients are assured that using Estorio's services and choosing a Valcucine system is a good investment.
You have also designed the "Genius Loci" kitchen for Estorio. How is this connected to the "spirit of the place" in Budapest?
The Genius Loci is both a harmony of beautiful details and the realization of brilliant technical ideas for optimal use of space. Thanks to the mechanics integrated into the worktop, you practically get an extra drawer per item. The drawers are decorated with handcrafted noble materials such as granite, copper, marble, wood and glass. The combination of precise manufacturing and an engineering approach, combined with beautiful details, create an unforgettable visual experience. The closer you look at a Genius Loci, the more you get a sense of the philosophy that guided the designers.
What are the latest additions to the Valcucine collections? What are the most exciting new products?
I would highlight the use of new materials, such as the carbon fibre reinforced countertop with an invisible Lapitec induction hob. The surface is durable and resistant to thermal expansion, not only can it be a worktop, but can also be used as a hob. The development of the Artematica and Riciclantica series is very impressive. Beautifully precise lines, contours and edge-banding have been created, bringing the elements together into a single unit. To achieve this, the whole system has been redesigned, which shows how thorough and sophisticated the engineering work is.
It is very impressive how the backlit shelving systems amplify the space, they can be technically designed up to 5 meters high, vertically connecting open spaces. In terms of materials, stone countertops made from recycled components have appeared, showing us that natural materials are not inexhaustible.