Complex ideas, stunning details, and the aim is to enjoy and appreciate the personal side of unique property development and Estorio showroom: an interview with Gábor Papp, Commercial Manager.
Eszter Radnóczy invited you specifically to lead the Estorio project – can you tell us about the long and exciting process of the preparation?
I was delighted to hear Eszter's idea for the Estorio project because I'm always interested in initiatives where we can take an off-the-beaten-track approach and create something original and long-lasting with great added value. The Estorio concept is very inspiring because it allows us to have a close relationship with our customers and fully understand their needs. And thanks to the careful design work, there is also the opportunity to introduce the brands in a real environment, in synergy with each other.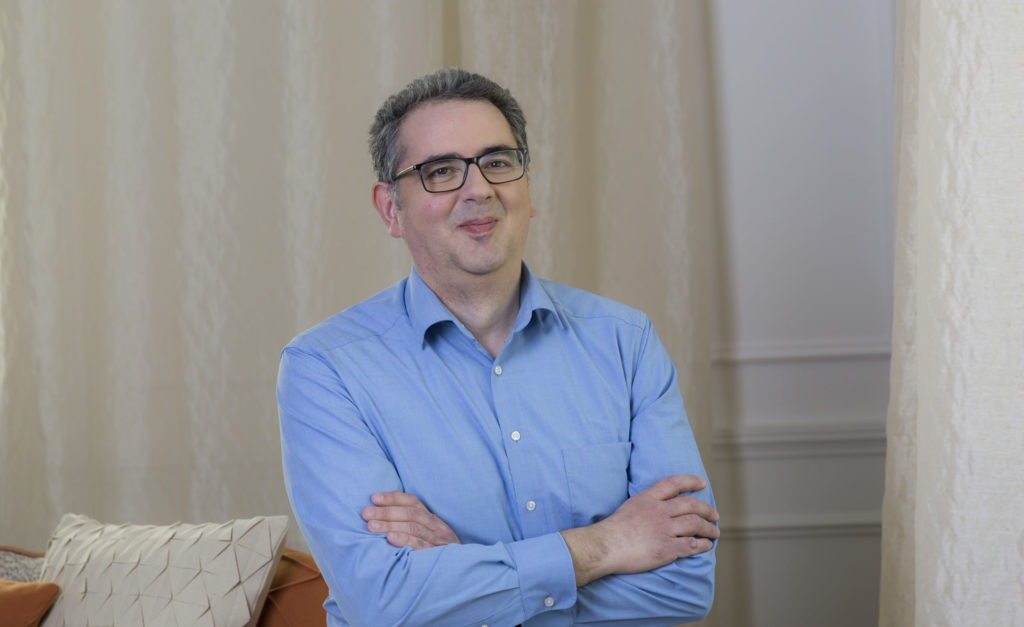 What is the concept of Estorio and why is it unique not only in Hungary but also in the regional market?
Estorio is an all-new showroom concept so it was very exciting to follow the design process. The designers have consciously considered every detail, harmonizing the basic concept with the visions of the manufacturers and the sales and marketing team. 'Turn-key' is an approach where we incorporate our products into a secure, functioning system, so that the client can be absolutely sure that they are getting beautiful and high quality products for their money. Este'r partners' hundreds of projects, that have been completed in the past 17 years, are the proof of this. Of course, if an architect or client is interested, products can also be selected from the system individually. Everything can be modified, customized and redesigned. But we always end up with a single system that is beautiful and valuable.
What can visitors find here, how do we arrive and spend time in Estorio?
We welcome visitors in a realized space, in a showflat. However, this space quickly expands as we get to know our client's ideas and we can start to work on making it a reality. Building up a concept and finding the ideal solution for the client depends on many things: if we develop complex ideas, we will always take the time to get to know the needs and the client, and prepare the solution thoroughly by planning, researching and choosing the right product. If necessary, we will also involve colleagues responsible for the relevant implementation tasks. However, we are also happy to help architects or clients looking for a specific element or product for an ongoing project: in this case, we try to find the optimal solution to ensure that the element fits the environment.
How can professionals (interior designers, architects, interior decorators) and the public connect with Estorio?
We are very happy to be contacted by professional partners. It goes without saying that we want to make our range available so that our partners can incorporate our products and systems into their own work. We welcome anyone from the sector who would like to know more about our concept and wants to work with us.
It has been a very long and thorough process to select and integrate your partners, the brands represented by Estorio. How did you choose your partners and which brands do you work with?
The main criteria were high quality and authenticity. We got to know all our partners and we are very happy and proud to share why we like them. They are all unique in their field and value their own reputation. Most of them are based on artisan traditions, and developed by renowned designers and architects to create valuable collections; they are at the cutting edge of design around the world. I believe it is important to be fair in business and we will obviously work with those partners we can trust, as a project can take several years from initial design to drinking a toast to it.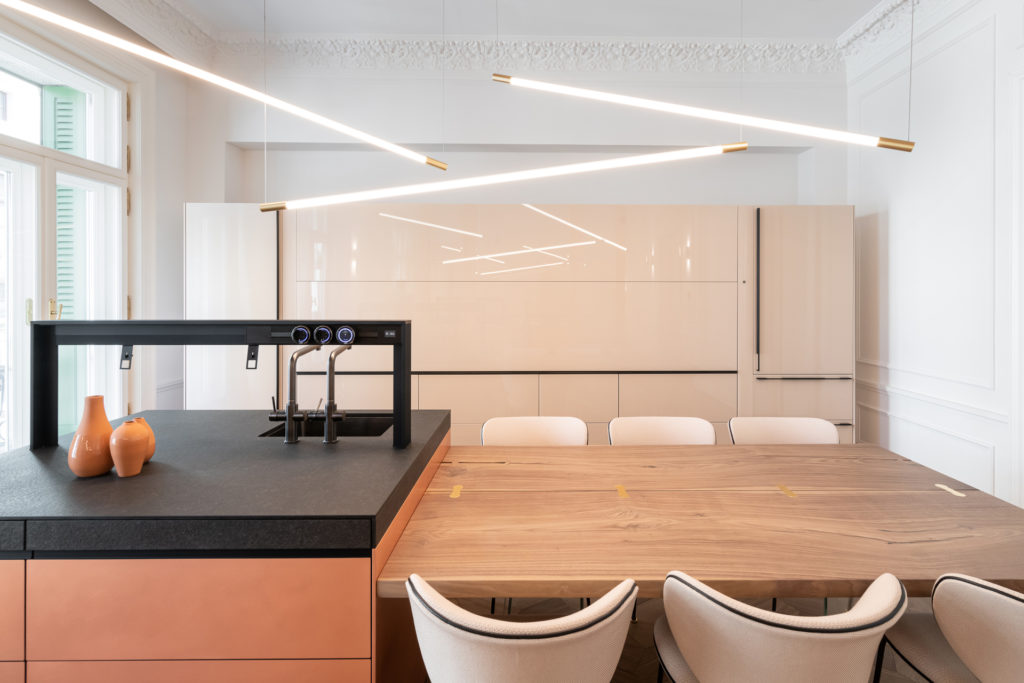 Such a special space has a strong effect on everyone – how does it affect you? What is it like to enter the completed Estorio showroom?
I know the place inside out. It was a memorable moment when one of our architect colleagues brought me a hundred-year-old design plan from an archive that the former owner had drawn for the renovation. I'm delighted that the space is finding its way back to itself and is now fully fit for both residential and commercial use. Bringing these two functions together in a harmonious way was perhaps the biggest challenge, but we have managed that too. The designers can talk about every tiny detail for hours, and I am happy to share these stories and ideas when I meet with clients.
What is it about your knowledge, personality and attitude that you can use here and now?
I love harmony and when things really work. Nowadays it's often only the surface that gets attention, but that's not enough to succeed. It takes the collaboration of many people to achieve a perfect result. I like to build and run anything that is beautiful, useful and enjoyable. I like capturing the human side of a new development, it's great when we are recommended by our own customers. If we get to this point, we'll be having a good coffee with friends every day, whether we're in the first Estorio in Budapest or in the next one.