Interior designer Eszter Radnóczy and the este'r partners studio opened their first showroom, Estorio – home of designer brands: in the apartment on Dalszínház Street, overlooking the Opera House of Budapest, more than thirty international design brands are displayed and arranged according to a unique concept. The genre-defining showroom is a meeting point, interior design pilot project, creative showroom, turn-key real estate development concept and the regional debut of international design brands.
"Estorio is a complete professional fulfillment for us designers: we have been able to enjoy our freedom and the unlimited flow of our team's creativity in this apartment. Over the past decades, we have built many personal and professional international relationships through este'r partners, our interior design studio in Budapest and Milan, and I have always dreamed of bringing together these wonderful brands, unique and high-quality Italian, French, Hungarian, Dutch and German designers. With Estorio, not only will our concept be realized, but also Europe's premium brands will be brought together in an inspiring space – I'm proud that our first location is here, in Budapest" – says Eszter Radnóczy, interior designer and founder of Estorio.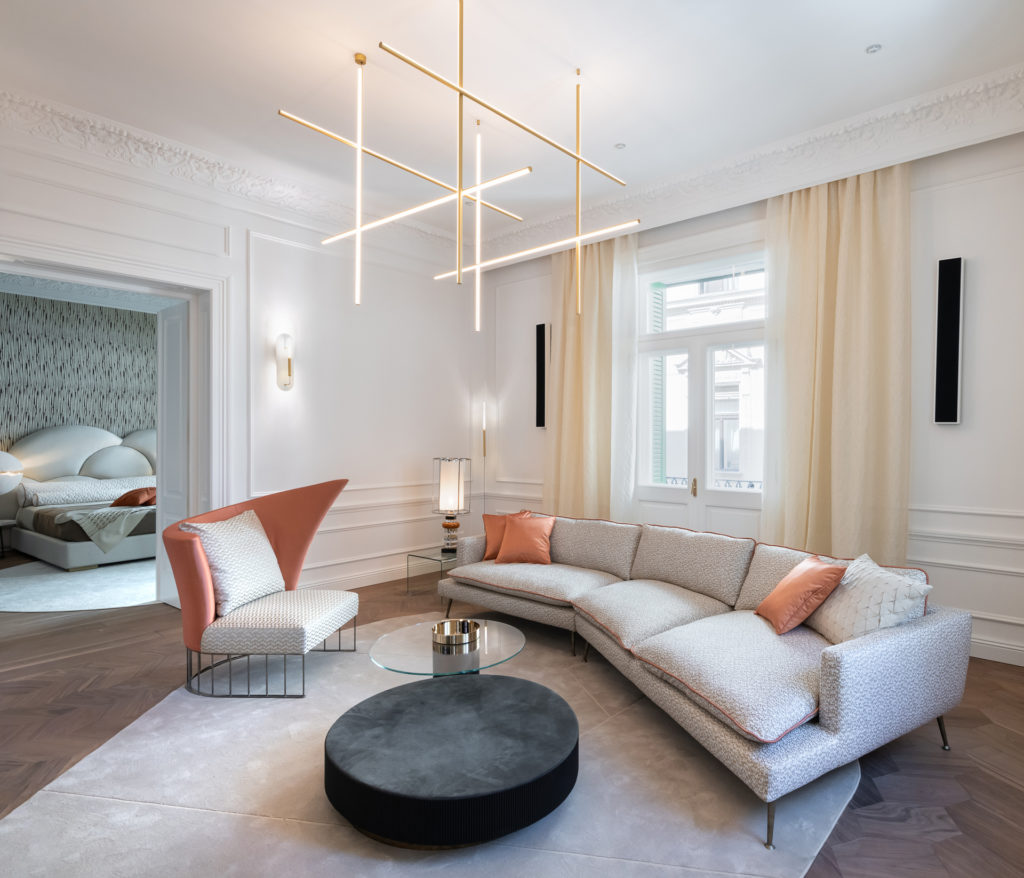 Estorio is now opening its doors to more than thirty international brands, some of which have not been available in Hungary or the products could not be seen in showrooms. These include Kreoo, a manufacturer of washstands, bathtubs and tables that combine traditional Italian marble with modern technology and can be interpreted as a masterpiece of applied art; Foglie D'Oro, a manufacturer of elegant, unusual geometric or walnut parquet flooring with marquetries or stone inlays; OliveLab, an Italian design start-up with unique lamps, and Cosy International, a manufacturer of high-quality glass and aluminium wardrobe furniture.
Other prestigious brands will also be available through Estorio: fabulous textiles from Rubelli, founded in 1858, products of premium wallpaper manufacturer Dutch Walltextile Company, based in Amsterdam, stunning textiles from Italian ZavaLuce, a dazzling and innovative lighting manufacturer, gorgeous fabrics of Flukso or Missoni Home, elegant and stylish furniture from Black Tie, or products from Valcucine, the high-tech kitchen technology giant with a sustainable approach.
Some of the brands will be available for the first time in the Central European region, as exclusive partners of Estorio – they will bring the Hungarian design community, architects, interior designers, decorators and property developers one step closer to the products of selected design brands, and to the turn-key concepts. The concept is supported by este'r partners' decades of design and implementation experience and its international network of contacts across Europe – combined with outstanding design creativity.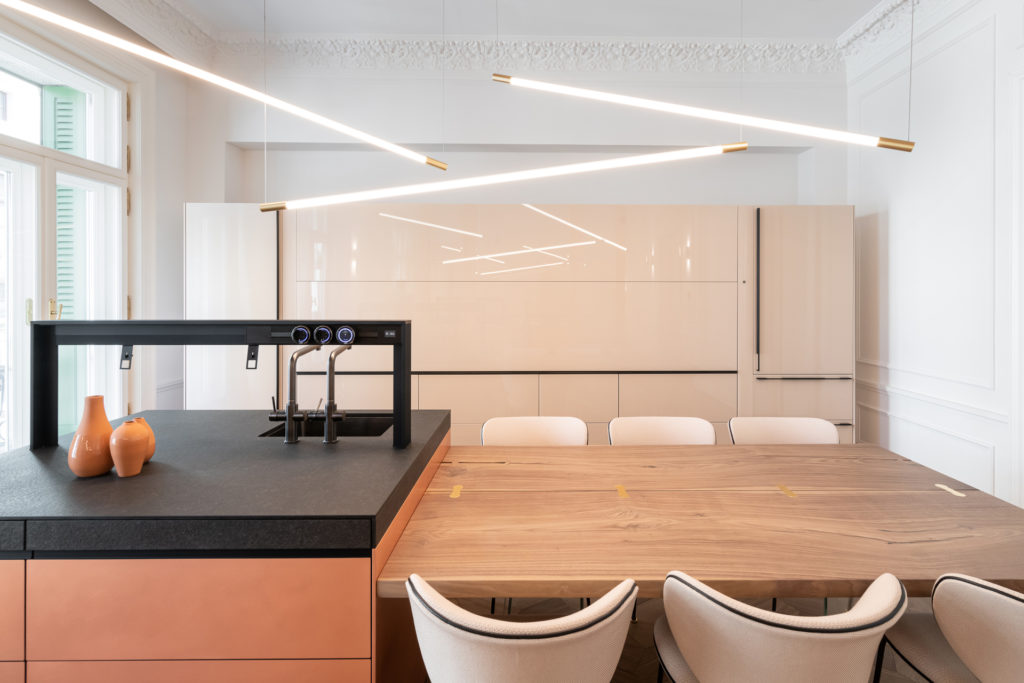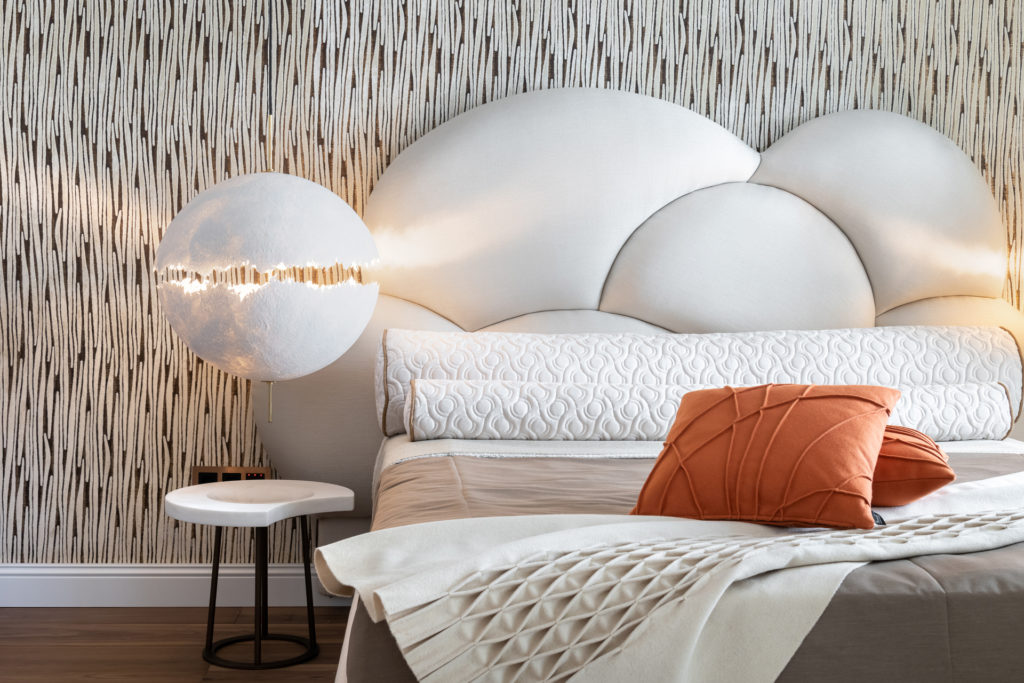 As Gábor Papp, Estorio's commercial manager, describes it: "Estorio is more than a showroom: we promise to offer a 360-degree service, from finding the perfect real estate to choosing the door handle of the home, we bring everything to life with the highest level of design solutions, including turn-key implementation on demand. The showroom next to the Opera House is just one possible realization of the values that come together in Estorio – the possibilities are endless and the next step is up to our clients."
Eszter Radnóczy adds: "Estorio is a constantly changing, exciting online and offline space that evolves together with the culture and our partners; already after the first concept has been realized, we are making alternative versions of the same space accessible on our website, using 3D renderings. We'd like to show how different selections, the coordination of product groups or the customization of various elements can create unique atmospheres, how the overall picture can change as a result of combinations, and how the expertise and unique approach of our design team can be brought together again and again in a common space."
The first showroom in Budapest reflects the atmosphere of the Opera House, which reopened in March. Designed with soft lights, fresh colors, elegant lines, playing with metals and mirrors – all of the highest quality and without compromise. The venue is in a typical Budapest location, it's a stunning residential apartment on Dalszínház Street overlooking Andrássy Avenue, which not only offers a view of the Opera House from its balcony, but the designers have also created reflections in the furniture and surfaces to be able to show different glimpses of one of the most beautiful works of Hungarian architecture at all times of the day.
The team at Estorio is unstoppable: Eszter Radnóczy's team will soon continue the unforgettable fusion of concept and design brands in a new European location.
Estorio is open in a showroom concept, please book an appointment.
Lead designer, founder: Eszter Radnóczy
Lead designer and project manager: Mónika Szommer
Creative concept and graphic design: Fanni Sokorai-Gyurics, Bianka Bánóczi, Zsófia Nagy
Commercial manager: Gábor Papp
Showroom management: Anita Koritke, Andrea Kovács
Website: www.estorio.com
Instagram: estorio.home
LinkedIn: estOrio – home of designer brands